T-Station 85 Turbo molecular Pumping Stations
Overview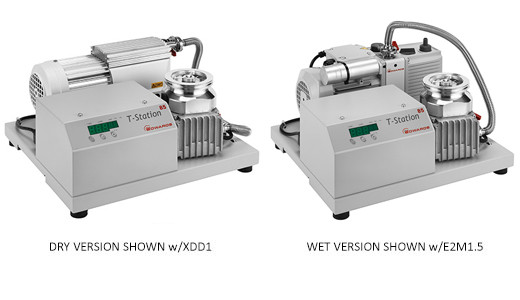 The T-Station 85 turbomolecular pumping station seamlessly combines an nEXT85H turbo molecular pump with either a dry diaphragm pump or oil sealed backing pump and a simple controller, providing pumping speeds of 47 l/s to 84 l/s-1. The T-Station 85 comes with an integrated Turbo and Active Gauge controller which enables single button start/stop of the system, the ability to control one of our active gauges*, vent valve* control and delayed start of the turbo molecular pump to either time or pressure if a gauge is fitted, making the T-Station 85 ideal for general laboratory needs.
Compact:


Minimal footprint

'Plug and Pump'
No Systemization required
Robust Construction:


Low cost of ownership
* Gauges and TAV5 vent valve must be purchased separately.
Features and Benefits
Base plate includes rubber feet and cut-outs in the sides for manual handling, giving a compact low profile but stable design that can't be knocked over

All metal frame means rugged design that can take abuse without cracking or breaking

E2M1.5 or XDD1 high capacity backing pumps giving the choice between an oil sealed pump or a totally dry diaphragm pump

Integrated air cooler acts to cool internal power supply and pump/controller for quiet operation avoiding multiple fans

Customer integrated control features:

Single dedicated button to start and stop

Easy to read accurate display

Ability to select vent mode where a TAV5 vent valve is fitted for automated venting with no user intervention

Available with either an NW40, ISO63 or CF63 inlet flange to suit your application

User serviceable nEXT85H turbo molecular pump

Automatic Voltage Sensor