EBSD Holders
Overview of Sample Holders Carbon Tabs Stage Adapters Stub Adapters Sample Preparation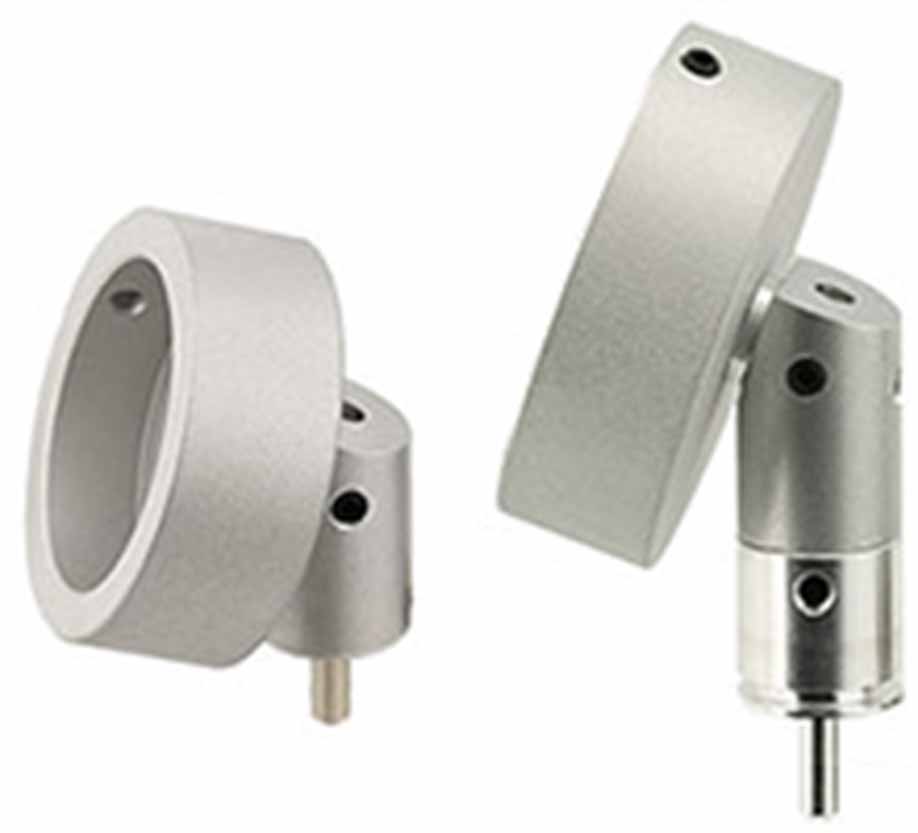 Overview
Rave Scientific offers the pre-tilt sample holders from EM-Tec which all include a 70° pre-tilt angle to facilitate EBSD analysis. With a 70° pre-tilt angle there is no need to tilt the SEM sample stage. Using 70° pre-tilted holders instead of tilting the SEM stage offer definite advantages.
The EBSD holders are flexible and come in the following designs:
Metallographic mount holders
Geological slide holder
Small vise type holders and S-Clip Holders.
The EBSD 70° pre-tilt holders can be combined with a height extender if needed. The EM-Tec P70 and H70 pre-tilt EBSD holders include both 70° pre-tilt and -20° pre-tilt to enable EBSD measurements at a 90° angle at the same sample.
The EBSD 70° pre-tilt holders are available with a pin or M4 threaded hole. Using a stub adapter for JEOL SEMs is only advised if there is enough height clearance or if the JEOL SEM has been converted to using pin stubs. The available EM-Tec EBSD sample holders and sample holder kits with 70° pre-tilt angle are:
Capacity, size and compatibility of the EM-Tec pre-tilt and variable tilt holders:
| Product # | Style | Tilt Angle | Size w/o Pin | Stub/sample compatability | Stage compatability |
| --- | --- | --- | --- | --- | --- |
| RS-MN-10-002270 | EM-Tec P70 | 70° EBSD | Ø12.7x20mm | 3.2 mm pin Stub | 3.2mm pin stub |
| RS-MN-10-002274 | EM-Tec P70M | 70° EBSD | Ø12.7x20mm | Hitachi M4 thread | 3.2mm pin stub |
| RS-MN-12-000268 | EM-Tec P71 | 70° EBSD | Ø34x38x29mm | Ø25mm / 1" mount | 3.2mm pin stub |
| RS-MN-12-000269 | EM-Tec P72 | 70° EBSD | Ø40x48x30mm | Ø32mm / 1-1/4" mount | 3.2mm pin stub |
| RS-MN-12-000272 | EM-Tec P73 | 70° EBSD | 52x32x25mm | 48x28mm slides | 3.2mm pin stub |
| RS-MN-12-000273 | EM-Tec P74 | 70° EBSD | 12.7x21x22mm | FIB lift-out grids | 3.2mm pin stub |
| RS-MN-12-000274 | EM-Tec P75 | 70° EBSD | 12.7x21x22mm | Si-chips / thin samples | 3.2mm pin stub |
| RS-MN-12-003274 | EM-Tec P76 | 70° EBSD | 12.7x21x22mm | Cross sections 0-4mm | 3.2mm pin stub |
| RS-MN-12-003278 | EM-Tec P77 | 70° EBSD | 15x23x24mm | Cross section 0-8mm | 3.2mm pin stub |
| RS-MN-12-003279 | EM-Tec P78 | 70° EBSD | 25x23x30mm | 0-16mm | 3.2mm pin stub |
| RS-MN-12-000370 | EM-Tec H70P | 70° EBSD | Ø12.7x20mm | 3.2 mm pin Stub | M4 thread |
| RS-MN-12-000371 | EM-Tec H70 | 70° EBSD | Ø12.7x20mm | Hitachi M4 thread | M4 thread |
| RS-MN-12-000368 | EM-Tec H71 | 70° EBSD | Ø34x38x29mm | Ø25mm / 1" mount | M4 thread |
| RS-MN-12-000369 | EM-Tec H72 | 70° EBSD | Ø40x48x29mm | Ø32mm / 1-1/4" mount | M4 thread |
| RS-MN-12-000372 | EM-Tec H73 | 70° EBSD | 52x32x25mm | 48x28mm slides | M4 thread |
| RS-MN-12-000373 | EM-Tec H74 | 70° EBSD | 12.7x21x22mm | FIB lift-out grids | M4 thread |
| RS-MN-12-000374 | EM-Tec H75 | 70° EBSD | 12.7x21x22mm | Si-chips / thin samples | M4 thread |
| RS-MN-12-003374 | EM-Tec H76 | 70° EBSD | 12.7x21x22mm | Cross sections 0-4mm | M4 thread |
| RS-MN-12-003378 | EM-Tec H77 | 70° EBSD | 15x23x24mm | Cross section 0-8mm | M4 thread |
| RS-MN-12-003379 | EM-Tec H78 | 70° EBSD | 25x23x30mm | 0-16mm | M4 thread |