TKD (Transmission Kikuchi Diffraction) sample holders for EBSD
Overview of Sample Holders Carbon Tabs Stage Adapters Stub Adapters Sample Preparation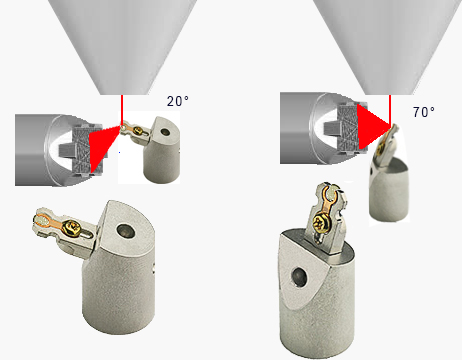 Overview
The Advantages of TKD (Transmission Kikuchi Diffraction) with EBSD have been well noted. TKD EBSD has shown spatial resolution improvements of up to one order of magnitude for EBSD. In addition to a specifically designed sample holder, it is beneficial to have software that is adaptable to analyzing electron transparent samples.
EBSD analysis is a powerful micro structural crystallographic characterization technique for crystalline or polycrystalline materials. Standard EBSD analysis on bulk samples and surfaces is performed on high-tilt samples (typically 70° from horizontal). The EBSD pattern reveals the crystal orientation and in polycrystalline materials the variation of orientation amongst the crystals. For optimum EBSD results, deformation free, polished surfaces are needed.
Transmission EBSD analysis is only possible on (very ) thin TEM samples suspended on a TEM grid or on a TEM lamella attached to an FIB grid. EBSD analysis on thin samples can be performed in backscatter mode at 70° tilt (from horizontal) or transmission mode at 20° (from horizontal). For transmission EBSD or t-EBSD is is imperative that transmitted electrons can reach the EBSD detector without any obstruction.
The EM-Tec TKD-EBSD holders are specifically designed to generate transmission Kikuchi patterns. The transmission EBSD holders include an opening of Ø2mm in the base. The top is formed by a fork-shaped phosphor bronze clip which clamps the TEM or FIB grid. Transmission EBSD imaging and analysis is possible over the Ø2mm area.
The EM-Tec t-EBSD holders are available with 1 of 3 TEM grid capacity. The choice of configuations include:
EM-Tec T1 t-EBSD sample holder for a single TEM or FIB grid, standard Ø3.2mm (1/8") pin to be mounted on existing pre-tilt holders

EM-Tec T3 t-EBSD sample holder for three TEM or FIB grids, standard Ø3.2mm (1/8") pin to be mounted on existing pre-tilt holders

EM-Tec TE1 t-EBSD sample holder kit for a single TEM or FIB grid with 70° and 20° pre-tilt, pin / M4

EM-Tec TE3 t-EBSD sample holder kit for three TEM or FIB grid with 70° and 20° pre-tilt, pin / M4
Capacity, size and compatibility of the EM-Tec t-EBSD sample holder and kits
| | | | | | |
| --- | --- | --- | --- | --- | --- |
| Product # | Style | Tilt angles | Size w/o pin | TEM Grid Capacity | Compatibility |
| | EM-Tec T1 | – t-EBSD | 6x11x4.5mm | 1 | 3.2mm pin stub |
| | EM-Tec T3 | – t-EBSD | 16x11x4.5mm | 3 | 3.2mm pin stub |
| | EM-Tec TE1 | 70° /20° t-EBSD | Ø12.7 x 30mm | 1 | 3.2mm pin stub |
| | EM-Tec TE3 | 70° /20° t-EBSD | Ø12.7 x 30mm | 3 | 3.2mm pin stub |
| | EM-Tec TE1 | 70° /20° t-EBSD | Ø12.7 x 30mm | 1 | M4 thread |
| | EM-Tec TE3 | 70° /20° t-EBSD | Ø12.7 x 30mm | 3 | M4 thread |