Angled and Tilted Holders
Overview of Sample Holders Carbon Tabs Stage Adapters Stub Adapters Sample Preparation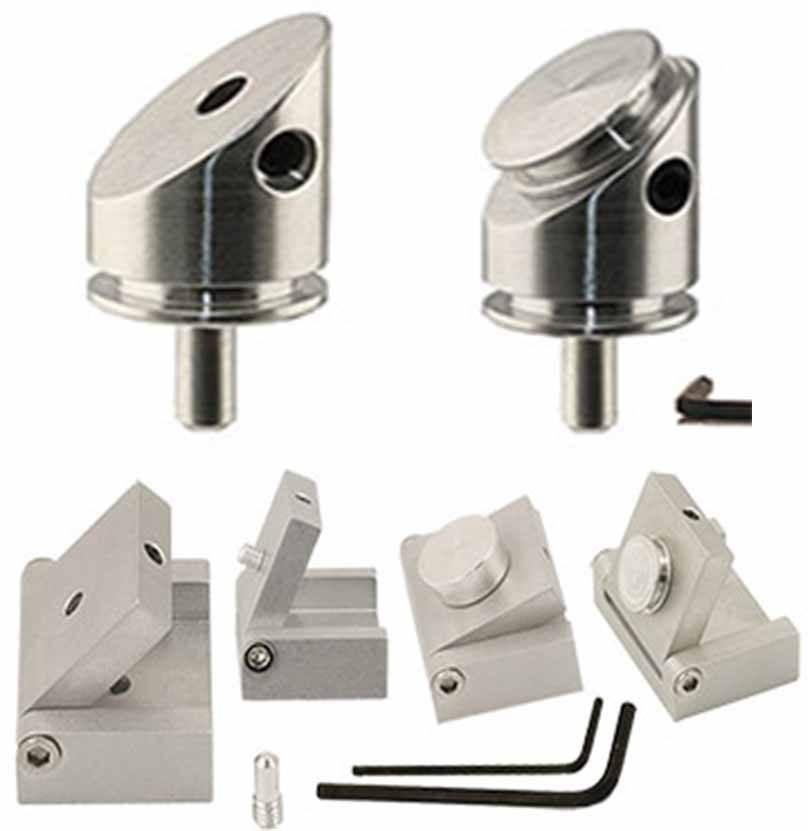 Overview
There are times when it is necessary to work with awkward samples that require pre-tilted holders. Rave Scientific offers the EM-Tec variable tilt and pre-tilt holders. These holders are useful for imaging samples under a pre-tilt angle without having to tilt the SEM stage. With these holders you can image previously mounted samples on standard pin stubs or Hitachi stubs at pre-set angles or any chosen angle. The tilt holders are particularly useful for table top SEMs without sample tilting facilities or for standard SEMs where high tilt would interfere with the pole piece or with detectors in the chamber. Sometimes, the pre-tilt holders are used to get full tilting from the SEM stage; with a pre-tilt 45° holder, the SEM stage only needs to be tilted another 45° to get a full 90° sample tilt. The available EM-Tec tilt holders are:

• EM-Tec TV12 mini variable tilt mount allows 0-90° angle in a small sample mount; available with pin stub (#RS-MN-12-000241) or M4 thread (#RS-MN-12-000347) . The sample needs to be mounted on thetilting platform of this compact holder. Side engravings on the tilting platform assist in setting the desired tilt angle. Side engravings at 0, 30, 45, 70 and 90 degrees.
• EM-Tec TV25 larger variable tilt holder allows 0-90° Angle for sample stubs or sample holders up Ø38mm. Larger stubs can be mounted, but tilting can be limited, depending on the SEM used. Compatible with both pin or Hitachi M4 threaded stubs or holders.Available with pin stub (#RS-MN-12-000248) or M4 thread (#RS-MN-12-000348)

• EM-Tec GS10(#RS-MN-12-000110) – A swivel vise which covers a full 180 angle and can also be rotated with the stub. This is the ultimate holder for imaging cross sections at any desired angle. The swivel head size without clamping screws is only 16x16x14mm. The sample is clamped with the two clamping screws; the
swivel head can be locked in place with the tilt clamping screw. Made from gold plated brass.
• EM-Tec PS15(#RS-MN-12-000211) swivel pin stub mount.The head of the mount is attached to the pin via a swivel hinge which allows for 90 degrees tilting each way. Excellent mount for SEMs without tilting facilities or when random tilt angled are needed. When the desired tilt angle is set, the top is secured with a socket cap screw.Top diameter is 15mm and height above pin is 15mm.