Inert Gas Sample Storage Container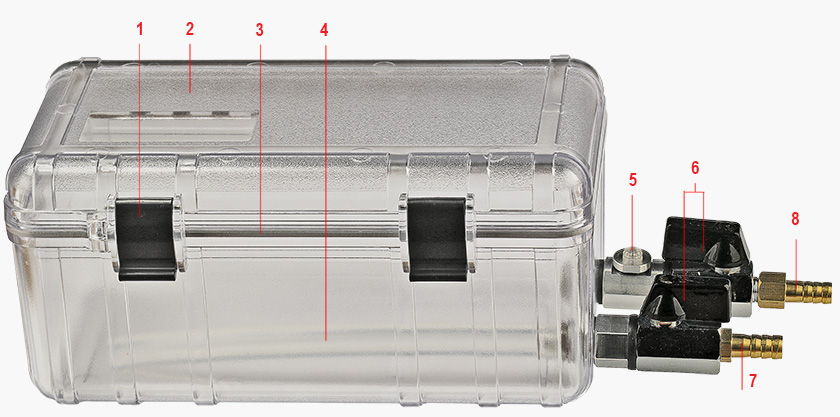 Overview
Rave Scientific offers the EM-Tec Save-Storr sample storage container which has been designed to store sensitive samples under a dry and inert gas atmosphere. The EM-Tec Save-Storr sample storage container consists of a clear polycarbonate hinged container with a seal, separate gas inlet and outlet valves and an over-pressure safety valve.
1- Dual locking clasps
2- Clear polycarbonate box
3- Foam seal
4- Gas distribution hose
5- Overpressure safety valve
6- Ball valves
7- Gas inlet connection
8- Gas outlet/pump connection
The container can be purged and filled with dry inert gas such as Nitrogen or Argon to protect moisture and oxygen sensitive samples. An end user can purchase the entire turnkey kit from this page. The construction allows to pump the EM-Tec Save-Storr container first before purging/filling it with inert gas. Using inert gas to protect samples is preferred for long term safe sample storage. The gas diffusion rate is lower than with vacuum storage containers due to the similar pressures in and outside the container.
Features of the EM-Tec Save-Storr sample storage container
Protects oxygen sensitive and/or moist sensitive samples

Protects samples and calibration standards against contamination

Large container with 1.75ltr storage capacity

Easy sample location through clear polycarbonate box

Sturdy, space-saving and stackable design

Ball valves for both gas inlet and gas outlet

Over-pressure safety valve
Specification of the EM-Tec Save-Storr sample storage container:
| | | | | |
| --- | --- | --- | --- | --- |
| Parameters | EM-Tec Save-Storr 2 | EM-Tec Save-Storr 4 | EM-Tec Save-Storr 7 | EM-Tec Save-Storr 10 |
| Product number | | | | |
| Outside dimensions LxBxH | 212 x 118 x 101mm | 238 x 184 x 103mm | 325 x 263 x 117mm | 325 x 263 x 169mm |
| Inside dimensions LxBxH | 200 x 99 x 89mm | 238 x 184 x 103mm | 303 x 229 x 103mm | 303 x 229 x 151mm |
| Volume | 1.75 ltr | 4.4 ltr | 7.1 ltr | 10.5 ltr |
| Gas inlet / outlet valves | Mini ball valves | Mini ball valves | Mini ball valves | Mini ball valves |
| Gas inlet / outlet connectors | 6mm (1/4") hose barb | 6mm (1/4") hose barb | 6mm (1/4") hose barb | 6mm (1/4") hose barb |
| Material | Polycarbonate | Thick-walled ABS | Thick-walled ABS | Thick-walled ABS |
| Colour | Clear | Black | Black | Black |
| Compatible gasses | N2, Ar, CO2 | N2, Ar, CO2 | N2, Ar, CO2 | N2, Ar, CO2 |
| Maximum pressure | 1.5 bar / 0.15Mpa / 150kPa | 1.5 bar / 0.15Mpa / 150kPa | 1.5 bar / 0.15Mpa / 150kPa | 1.5 bar / 0.15Mpa / 150kPa |