ZEISS EVO Scanning Electron Microscope
Overview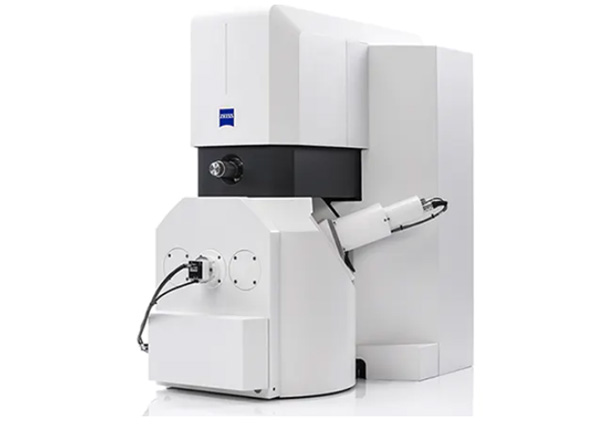 Since 1965 the ZEISS conventional electron microscope has set the standard for performance and ease of use. The EVO scanning electron microscope is a modular SEM Platform designed for intuitive operation, routine investigations and research applications.
The instruments of the EVO family combine high performance scanning electron microscopy with an intuitive, user-friendly experience that appeals to both trained microscopists and new users. With its comprehensive range of available options, EVO can be tailored precisely to your requirements, whether you are in life sciences, material sciences, or routine industrial quality assurance. and failure analysis.
Unique Features
Variety of different chamber sizes and stage options that meet all your application requirements—even for large industrial parts and samples that can be a challenge to process with an SEM.
Lanthanum Hexaboride (LaB6) emitters that will maximize image quality, delivering more beam brightness for superior image resolution and noise reduction.
Best in class variable pressure operation. Experience image analytical excellence on non-conductive samples with variable pressure operation.
Excellent analytical geometry and flexibility. Users benefit from a design that accommodates multiple analytical detectors to support demanding microanalysis applications.
Ease of use by design. Expert users have the option for a more advanced experience with the SmartSEM® graphical user interface, control panel and joystick or SmartSEM Touch® a novice and easy to use touch screen experience.
The EVO Family
Vacuum Chamber Size Options
ZEISS EVO 10

ZEISS EVO 15
ZEISS EVO 25

Choose EVO 10—with optional backscatter detector and Element EDS system—to be your entry point to scanning electron microscopy, at a remarkably affordable price. Even this smallest of EVO vacuum chambers is well differentiated from tabletop SEMs. Your investment in EVO now assures that you are ready for applications that require more space and ports than you anticipate today.

EVO 15 demonstrates the flexibility concept of the EVO family and excels in analytical applications. Opt for the larger vacuum chamber of the EVO 15, and add variable pressure for imaging and analysis of non-conductive samples or parts, and you have a versatile, multi-purpose solution for central microscopy facilities or industrial quality assurance laboratories.

EVO 25 is the industrial workhorse solution with enough space to accommodate even the largest parts and assemblies. Expand EVO 25 capabilities further with an optional 80 mm Z travel stage that can handle weights up to 2 kg even with tilt. Additionally, the large chamber will accommodate multiple analytical detectors for the most demanding microanalysis applications.
Maximum specimen heights
100 mm
145 mm
210 mm
Maximum specimen diameter
230 mm
250 mm
300 mm
Motorized stage travel XYZ
80 x 100 x 35 mm
125 x 125 x 50 mm
130 x 130 x 50 (or 80) mm
High Vacuum (HV) mode
Best quality imaging and analysis on conductive samples
Variable Pressure (VP) mode
High quality imaging and analysis on uncoated, non-conductive samples
Extended Pressure (EP) mode
Environmental imaging of hydrated or contaminated samples in their natural state
Expert Users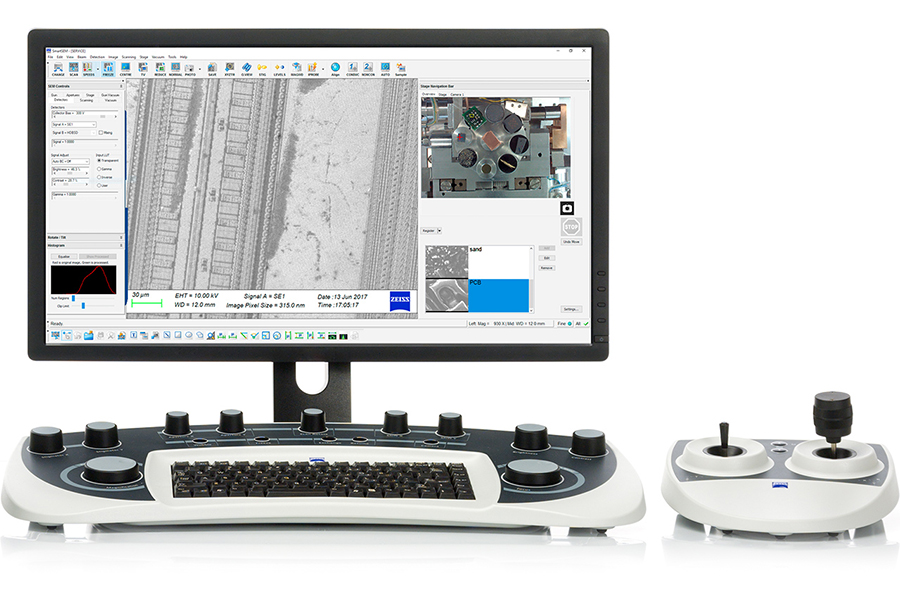 Novice Users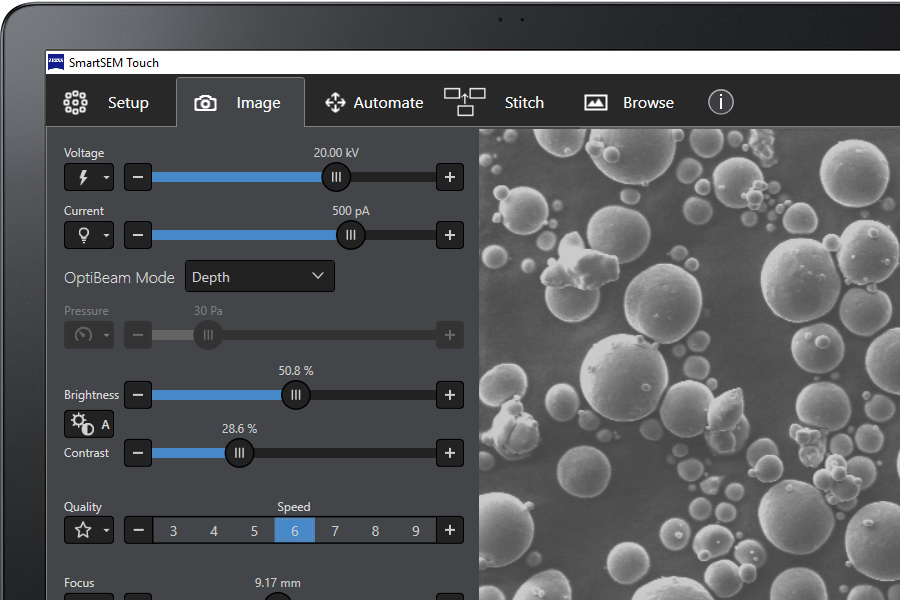 Take Your Investigation to the Next Level with Lab6
Electron emission from a lanthanum hexaboride cathode, rather than a traditional tungsten hairpin filament, provides the reassurance that every extra bit of image quality is there when you need it. And that is a benefit you can put into action in two ways:
At equivalent electron probe sizes (i.e. resolution), there is more probe current to work with, which makes image navigation and optimization much easier.
At equivalent probe currents (signal-to-noise), the beam diameter is much smaller, resulting in enhanced image resolution.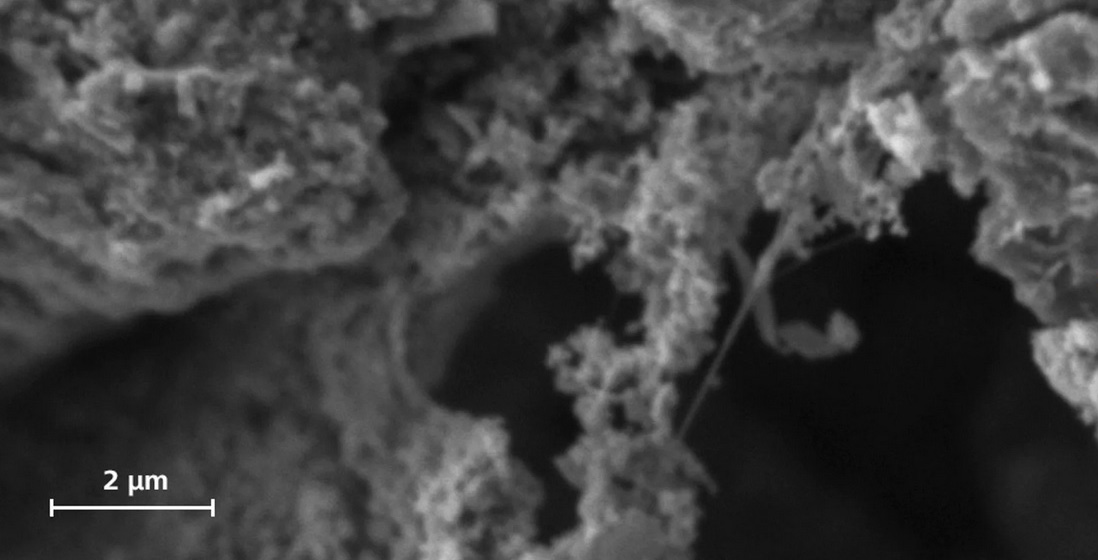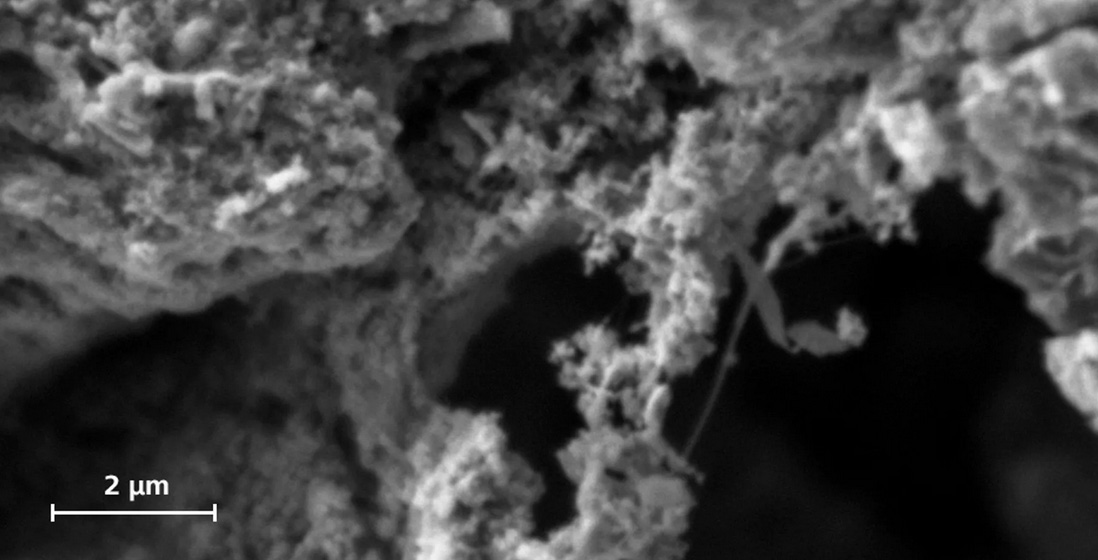 At challenging imaging conditions, LaB6 users benefit from up to 10 times more beam brightness, resulting in improved image resolution and contrast. As shown above, Catalyst particles imaged at high magnification and low kV (left: Tungsten, right: LaB6).
ZEISS SmartEDX-Fully integrated EDS solution
Embedded EDS Solution for Routine SEM Microanalysis Applications
If SEM imaging alone isn't enough to gain a complete understanding of parts or samples, investigators will turn to Energy Dispersive Spectroscopy (EDS) to acquire spatially resolved elemental chemistry information.
Optimized for routine microanalysis applications
SEM and EDS have to be paired with careful consideration. SmartEDX on EVO is ideally suited for routine microanalysis applications, particularly for customers with high standards for data reproducibility. It provides highest throughput at 129 eV energy resolution and 1-5 nA probe current – typical EVO operating condition. SmartEDX is optimized to detect low energy X-rays from light elements thanks to superior transmissivity of the silicon nitride window.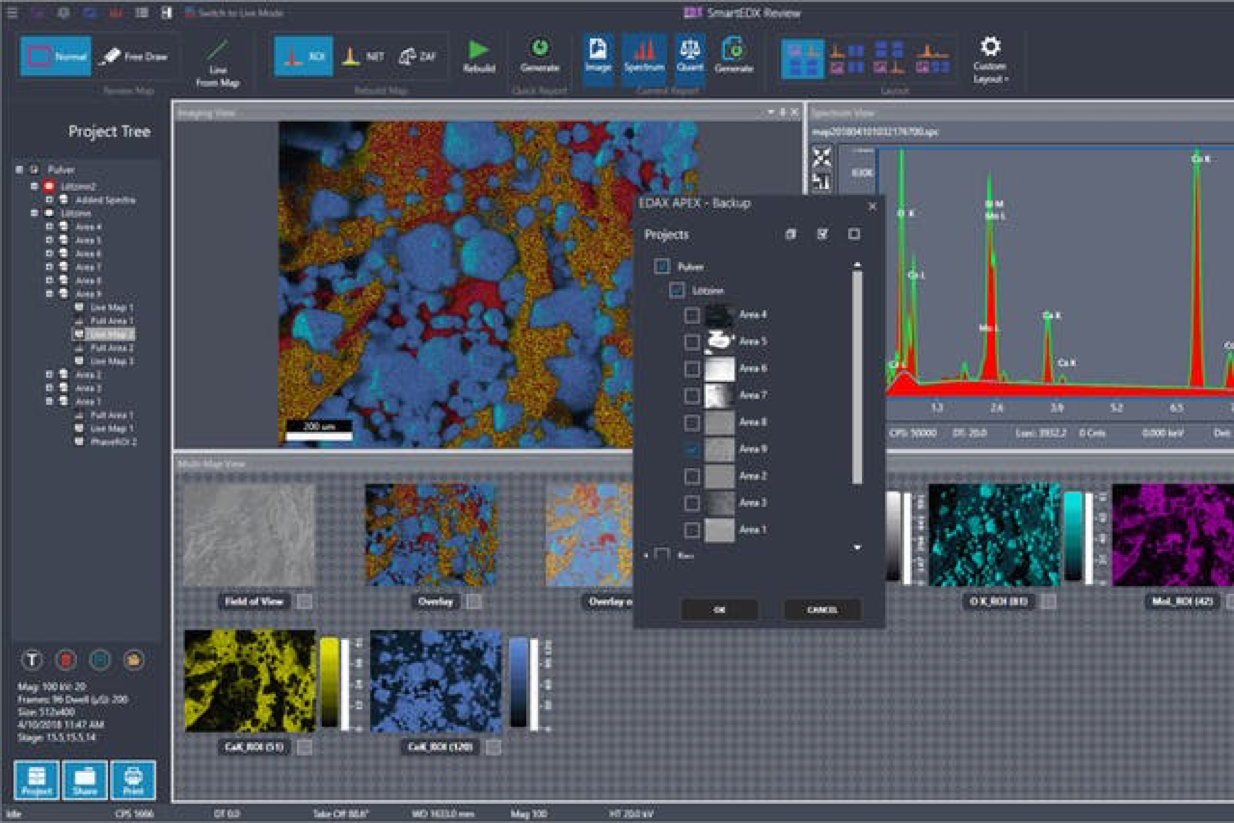 Workflow-guided graphical user interface
SmartEDX is developed to improve both ease of use and workflow repeatability in multi-user environments. Like other ZEISS workflow-guided software solutions, such as SmartSEM Touch, ZEN core, or Shuttle & Find for EVO, the SmartEDX software is easy to learn, intuitive to use, and helps ensure repeatable execution of analytical tasks on the SEM, particularly in environments where more than one operator will be using the system.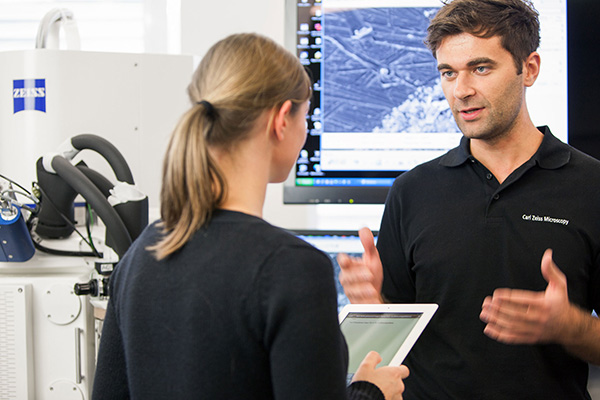 Total ZEISS service and system support
Because SmartEDX is supported entirely by ZEISS, this EDS solution is ideal for customers with a vested interest in streamlining their number of analytical equipment suppliers. All installation, preventive maintenance, warranty, diagnostics and repair, spare part logistics, and inclusion in total system service contracts are fully handled by ZEISS, making support of your analytical SEM solution easy.
Intelligent Navigation and Imaging
Improve Your Sample Throughput, Productivity and Performance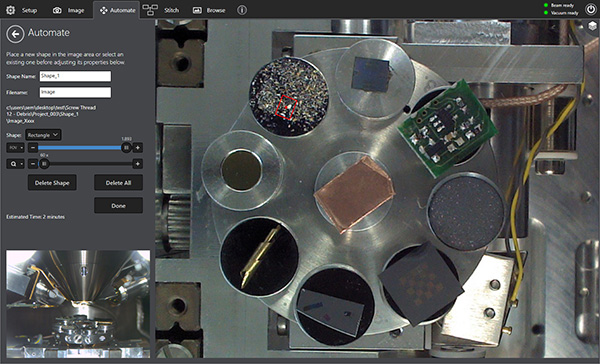 ZEISS Navigation Camera
A camera can be mounted either to the chamber to monitor the position of the samples relative to the pole piece mounted backscattered detector (chamberscope); or on the vacuum chamber door (navigation camera) to enable a helicopter view of the arrangement of samples or parts on the sample holder. This view can then be used to set up predefined locations of interest identified from a light microscope image, and for easy navigation during the entire sample investigation process.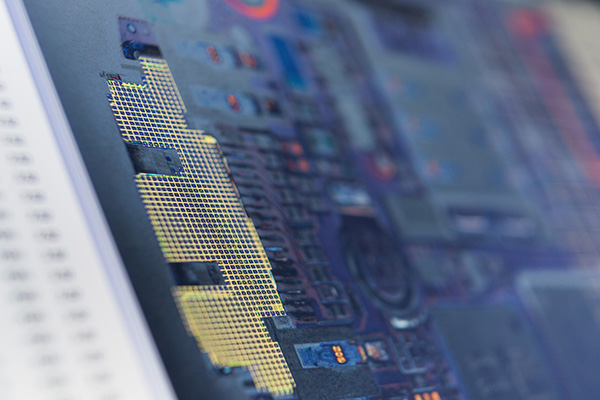 Automated Intelligent Imaging
EVO enables automated, unattended acquisition of images across sample batches. ZEISS Automated Intelligent Imaging is perfectly suited to routine inspection. It enables the user to define a boundary region, automatically generate regions of interest determined by the required field of view or magnification, and begin automated acquisition. Automated Intelligent Imaging will improve your sample throughput, boosting productivity and performance.