MEL BUILD 3 Axis EDS HATA TEM Holder

The MEL-BUILD HATA-TEM holder system is a uniquely designed tomography holder optimized for EDS. Employing a design that increases the efficiency of X-ray detection the unique cartridge structure design enables the transfer of the prepared sample from a Dual Beam, SEM, Atom Probe and SIMS platform and is compatible with the JEOL and Thermo Scientific TEM platforms. The system provides:
3-axis orientation alignment
High efficiency EDS Tomography Analysis
Easy to link other tools by using the MEL-BUILD Double Tilt Cartridge Structure
The HATA TEM holder design ensures there is complete access to high count x-rays to your multi-detector EDS design.
High Resolution EDS analytical performance test : Column mapping of SrTiO3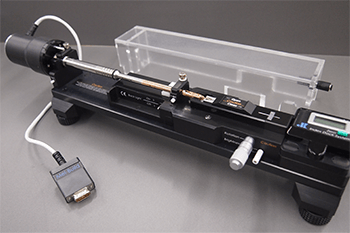 High-Angle Triple-Axis TEM holder
Applicable instrument:
TFS Tecnai, Titan, JEOL HR pole piece type
Maximum X (α) tilt range +/-80°
(Limited by the Gonio stage tilt angle.)
Maximum Y (β) tilt range +/- 7.50°
Supports high-resolution