Edwards Vacuum Gauges and Controllers
Overview
The result of more than 75 years of experience Edwards vacuum gauges are the most rugged, precise and dependable vacuum gauges today. These high quality gauges will cover the complete vacuum ranges in all lab and instrument environments. The Edwards controllers can also be integrated and in some cases host up to six gauges at one time. The following gauges can be provided and controllers are offering:
Active APG 100 Pirani Vacuum Gauge
AIM Active Inverted Magnetron Penning Gauge
Wide Range Gauges
AIGX Active Ion Gauge
APGX-H Active Linear Convection Gauges
ATC Active Thermo Couple Gauge
ADC Active Digital Controller
TIC Instrument Controllers
CG16K Capsule Dial Gauge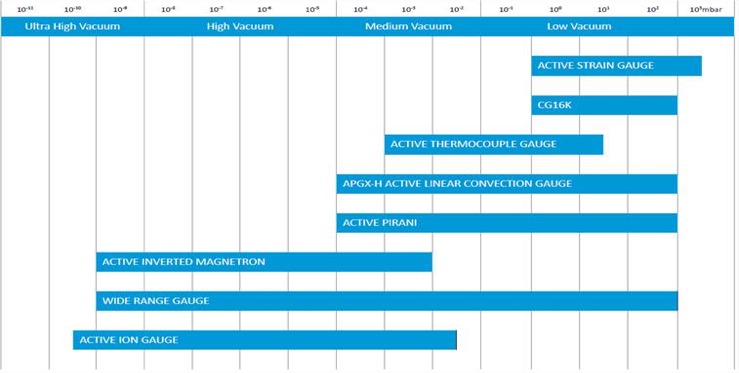 The above diagram shows the various ranges of vacuum that a particular gauge will cover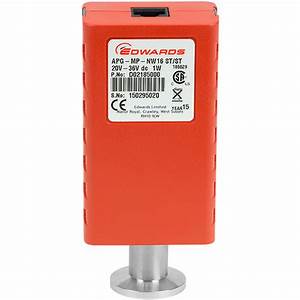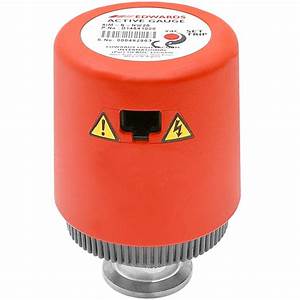 Vacuum-Gauge correlation chart when choosing a vacuum gauge
The Edwards Active Inverted Magnetron Gauges (AIM) combine the gauge head and controller in one (Insert Penning Gauge Picture on right hand side) compact active unit. These gauges have proved to be rugged and compact active unit. These gauges have proved to be rugged and reliable in a wide range of applications ranging from scientific instruments to industrial processes. The AIM Gauge is an inverted magnetron gauge head and gauge controller in a single compact unit. The gauge operates as a cold cathode ionization gauge, in which pressure is measured indirectly as a function of the current that flows in a Townsend discharge maintained in the body tube.The measurement range of the AIM Gauge is 1 x 10-8 to 1 x 10-2 mbar.The AIM Gauge requires a 13.5 to 36 V d.c. power supply: it has a 2 to 10 V d.c. analogue output which is related to pressure.The AIM Gauge is compatible with all of Edwards Active Gauge Controllers and with the appropriate versions of the Active Gauge Displays. Alternatively you can use an independent power supply for the AIM Gauge and you can read the AIM Gauge output signal with a voltmeter or an analogue-to-digital converter.
The Edwards WRG-S Active Wide Range Gauge NW25, KF25, offers the capability of single port (Insert Wide Range Gauge Picture on left) pressure measurement in the range ATM (atmosphere) to 10-9 Torr with a linear output. Its a compact solution, halving the space and connectivity hardware requirement, which can be all important in many applications. The WRG has many novel features, including a new patented striker, pushbutton calibration and set point controls and comprehensive diagnostics. The WRG is a cost-effective vacuum management solution when used either with an Edwards controller or directly integrated into the system controls and has a user replaceable sensor tube.