Tungsten SEM Filaments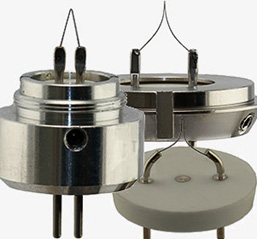 Overview
Rave Scientific offers SEM tungsten filaments for all major brands of scanning and transmission electron microscopes. These high quality, high stability tungsten EM filaments, also called cathodes or electron emitters, are manufactured to exceed the specifications of the original equipment manufacturers. These superior cathodes are made using high quality ceramic discs, exact size contact pins and high grade tungsten filament wire. Special tools are used to produce the correct shape of the tungsten filament. All EBS tungsten filaments are precisely aligned and annealed in high vacuum to reduce stress in the filament. This will guarantee optimum stability, maximum brightness, longer lifetime and overall lower running costs.
Exclusive features of the EBS tungsten EM filaments are:
Minimum tip radius for coherent beam
Rigid attachment of filament wire to post to increase stability
Fully stress relieved for enhanced cathode lifetime
Tungsten Filament Selection Table
My µ Scope
Product number
Ceramic Disc mm
Pin Diameter mm
Pin Pitch mm
AmRay /AMR (except 1200 series)

26.0

1.0

5.0

Cambridge Instruments (except S4-10)
12.0
1.0
6.45
CamScan with AEI conversion
12.0
1.0
6.45
CamScan with new Tescan Column
19.8
1.0
5.0
SEC
23.4
1.2
12.0
FEI
26.0
1.0
5.0
Hitachi S-Type
9.8
1.2
2.7
Hitachi with Cartridge TM series tabletop
3400N, 3700N, SU1500, SU3500
9.8
1.2
2.7
ISI /ABT / Topcon 2-Pin
23.4
1.2
12.0
JEOL K-Type with metal ring
28.0
1.2
8.0
Leica
12.0
1.0
6.45
LEO 400 and 1400 Series SEM
12.0
1.0
6.45
LEO1450 (except AEI conversions)
19.8
1.0
5.0
LEO TEM
19.8
1.0
5.0
Coxem
23.4
1.2
12.0
Philips V-Loop (PSEM500/EM200 and later)
26.0
1.0
5.0
Tescan
19.8
1.0
5.0
ZEISS DSM and TEM
19.8
1.0
5.0
ZEISS EVO
12.0
1.0
6.45
Denka LaB6 Filaments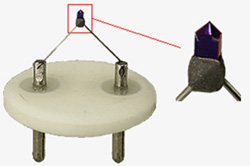 Overview
Rave Scientific offers Denka Lab6 cathode. The Denka M-3 LaB6 filaments are the industry standard, high quality LaB6 cathodes. The standard cathode with the 15µm round tip has a 90° tip angle, which provides a high brightness source coupled with excellent stability. Special versions with sharper 60° tip angle and smaller 5µm/10µm round tips are available for TEMs.
Denka uses the purest, high quality LaB6 crystals for the Denka LaB6 cathodes. The Denka LaB6 tip provides a 10x higher brightness as the standard tungsten source, resulting in better resolution with clear images and less noise. The lifetime of the LaB6 cathode is much longer than a tungsten source providing a stable source over a longer period. The LaB6 sources require a higher vacuum than standard tungsten sources which generally requires an additional ion-getter pump at the electron source. The required vacuum is in the 10-7 torr range.
Here are some listed advantages for Lab6:
Longer Extended Life > 750 hours
Improved performance for low KV imaging
Advantages for TEM imaging and analysis
Electron probe micro analyzers (EPMA or Microprobe)
Improved stability for E-beam lithography
Improved imaging in Variable and Low pressure SEM conditions.
Design and features of the Denka M-3 LaB6 EM cathodes
The Denka LaB6 EM cathode construction is similar to that of tungsten cathodes. It uses the same base with tungsten wires attached to the contact pins. Instead of a full tungsten loop, the LaB6 crystal forms the tip with the tungsten wires are cemented against the LaB6 crystal. In this design the LaB6 crystal is directly heated by the filament current through the tungsten wires and the LaB6 crystal. This unique construction has a number of features and benefits:
Interchangeability: Denka M-3 LaB6 cathodes are designed as direct replacement for tungsten filaments and in most cases if there is an ion pump for high vacuum then an end user can use a Lab6 or Tungsten filament.
The Denka Lab6 is suitable for SEM and TEM
Direct heating design with tungsten wired cemented at the high purity LaB6 crystal
High brightness; about 10x higher than tungsten filaments (even 20x for sharper tips)
Stable sources; due to its durable and simple construction, the standard Denka M3 LaB6 comprises a stability of better than 3%/hour at 1550°C
Long life; at 10-7 torr vacuum and 1550°C operating temperature, 500-2000 hours of lifetime can be expected for the standard M3 LaB6 cathode
Low vapor pressure; reduced evaporation loss
High melting point and stability at operating temperatures
Low work function of 2.66ev (compared to 4.7ev for tungsten)
Denka Schottky Emitters
EM-Tec P45 fixed 45° pre-tilt holder for pin stubs/holders, Ø12.7x17mm, pin.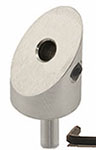 Low profile SEM pin stub Ø12.7 diameter with 90° aluminium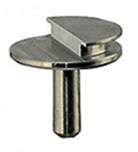 Low profile SEM pin stub Ø12.7 diameter with 1mm height aluminium

Low profile aluminum grade SEM pin stub ∅12.7 diameter with 1mm height for FEI or TESCAN Systems

Low profile aluminum grade SEM pin stub ∅12.7 diameter with 90º of pre-tilt for FEI or TESCAN Systems.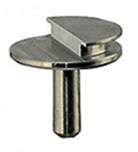 FIB-SEM Pre-Tilt Speciman Holders
FIB-SEM Pre-tilt Specimen Holders
Angled and Tilt holders
Angled and Tilted Holders
Overview of Sample Holders Carbon Tabs Stage Adapters Stub Adapters Sample Preparation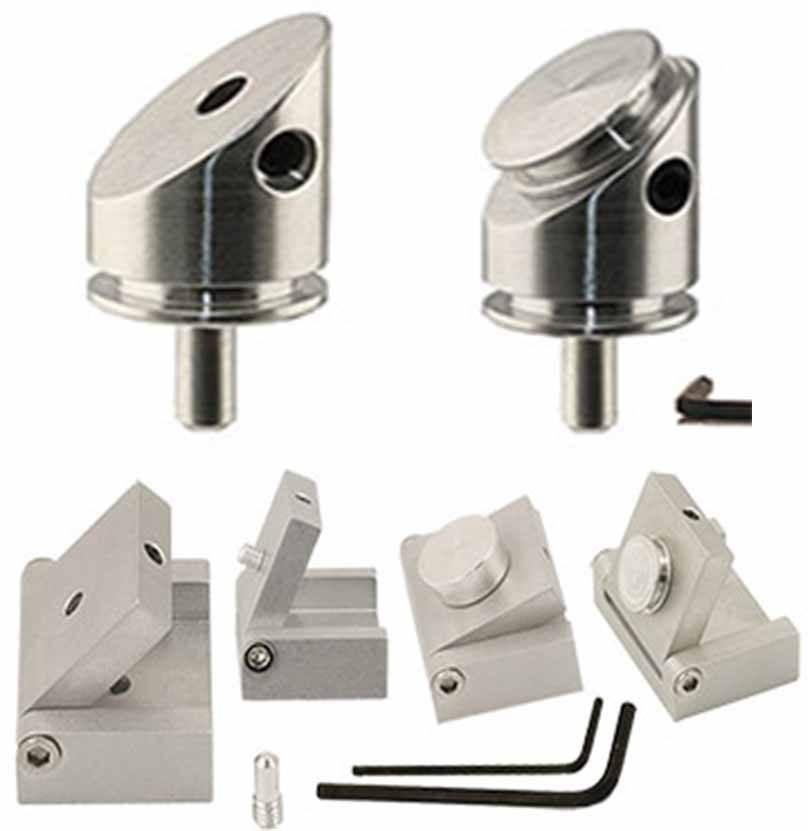 Overview
There are times when it is necessary to work with awkward samples that require pre-tilted holders. Rave Scientific offers the EM-Tec variable tilt and pre-tilt holders. These holders are useful for imaging samples under a pre-tilt angle without having to tilt the SEM stage. With these holders you can image previously mounted samples on standard pin stubs or Hitachi stubs at pre-set angles or any chosen angle. The tilt holders are particularly useful for table top SEMs without sample tilting facilities or for standard SEMs where high tilt would interfere with the pole piece or with detectors in the chamber. Sometimes, the pre-tilt holders are used to get full tilting from the SEM stage; with a pre-tilt 45° holder, the SEM stage only needs to be tilted another 45° to get a full 90° sample tilt. The available EM-Tec tilt holders are:

• EM-Tec TV12 mini variable tilt mount allows 0-90° angle in a small sample mount; available with pin stub (#RS-MN-12-000241) or M4 thread (#RS-MN-12-000347) . The sample needs to be mounted on thetilting platform of this compact holder. Side engravings on the tilting platform assist in setting the desired tilt angle. Side engravings at 0, 30, 45, 70 and 90 degrees.
• EM-Tec TV25 larger variable tilt holder allows 0-90° Angle for sample stubs or sample holders up Ø38mm. Larger stubs can be mounted, but tilting can be limited, depending on the SEM used. Compatible with both pin or Hitachi M4 threaded stubs or holders.Available with pin stub (#RS-MN-12-000248) or M4 thread (#RS-MN-12-000348)

• EM-Tec GS10(#RS-MN-12-000110) – A swivel vise which covers a full 180 angle and can also be rotated with the stub. This is the ultimate holder for imaging cross sections at any desired angle. The swivel head size without clamping screws is only 16x16x14mm. The sample is clamped with the two clamping screws; the
swivel head can be locked in place with the tilt clamping screw. Made from gold plated brass.
• EM-Tec PS15(#RS-MN-12-000211) swivel pin stub mount.The head of the mount is attached to the pin via a swivel hinge which allows for 90 degrees tilting each way. Excellent mount for SEMs without tilting facilities or when random tilt angled are needed. When the desired tilt angle is set, the top is secured with a socket cap screw.Top diameter is 15mm and height above pin is 15mm.
Small sample holders
YPS 174 Schottky Emitters

YPS Schottky TFE emitter modules with type 174 suppressor for Amray, Philips, Hitachi, ISI/ABT/Topcon, LEO, PHI, Riber, Tescan and Zeiss columns
YPS-184 Schottky Emitters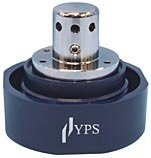 YPS Schottky TFE emitter modules with type 184 suppressor for FEI, Tescan and Camscan
YPS exchange Schottky TFE module assemblies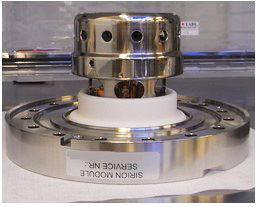 YPS exchange Schottky TFE module assemblies for FEI FEG and Sirion SFEG electron columns